Our 17th action of marking unmarked sites of suffering is complete. In this action, we visited unmarked sites of suffering in the area of Trnovo, Mount Igman and Bugojno and marked places that are forgotten in these local communities, shrouded in silence and often subject to denial that anything every happened there.
This action to mark unmarked sites of suffering was also joined by a reporter and cameraman from the Balkan Investigative Reporting Network (BIRN) who made a documentary about what our initiative has been doing for the past six years that will be aired on TV Justice.
BIRN has been following our initiative from its very beginnings, providing support and being an important ally in our mutual mission to build a healthier culture of memory. The action was also joined by Edin Ramulić from the Prijedor-based Culture of Memory Foundation. Together, we visited Bravnice near Jajce, an unmarked site of suffering dating back to 1995 that we marked three years ago as part of one of our actions. In Bravnice, the locals moved our temporary memorial (sign) to a birch tree by the road, turning it into a permanent memorial that has stood there for three years, testifying to the fact that an atrocity took place there. In Bravnice, Edin spoke to the BIRN reporters about the importance of marking unmarked sites of suffering, saying how his long experience in building a culture of memory has taught him that it is important to engage with sites of suffering that are not in public focus. Together, we replaced the weathered old sign with a new one, once again sending a message from this site about the importance of building a constructive memory about the war.
Vow of Silence
For the past six years, the initiative to mark unmarked sites of suffering has been working to build a healthy culture of memory about events from the past war in Bosnia and Herzegovina. Since 2015, we have visited and marked 127 sites of suffering that were either sites of detention or crimes or other forms of human rights violations during the war, with 125 of them remaining unmarked. Most of the sites of suffering we visit are shrouded in silence, making it impossible to speak constructively and publicly about what happened there in the local communities where they are situated. It is our intention to focus on sites of suffering that are being denied, shrouded in silence and that still lack a dignified memorial, because it is precisely these sites that enable us to deal with what is left out of dominant narratives about the past. These forgotten and denied sites of suffering are, in fact, the most important for crossing over our imaginary boundaries in memory and antagonistic national narratives, and talking about them helps build a common view of the past in BiH.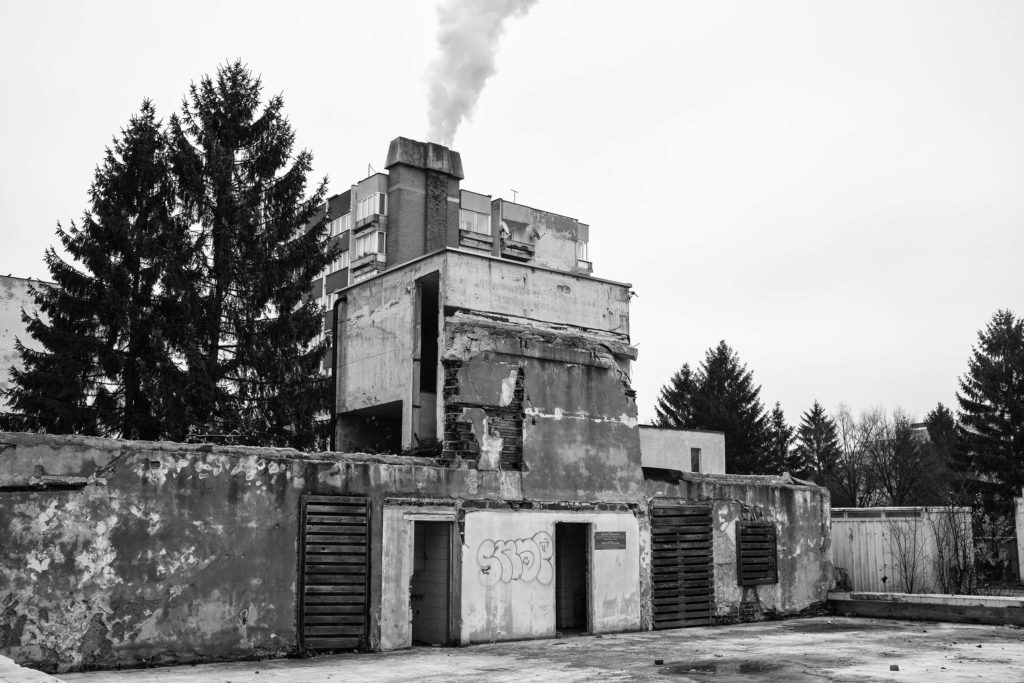 Imaginary Line
We started our action in Trnovo where our host was Goran Timotija, president of the Trnovo Organisation of Families of Captured and Killed Fighters and Missing Civilians. Together, we visited and marked the derelict Hotel Treskavica in the part of Trnovo that belongs to Republika Srpska. A small place, divided by the imaginary entity line, despite this imposed division, lives together and functions in both entities. In 1992, the now derelict Hotel Treskavica was used as a detention facility for Serbs that were brought there after ARBiH and HOS units captured the area. From Goran we learned more about what happened there during the war, but he also explained that despite the site being located in RS, it has still not been adequately marked. Goran also conveyed his dissatisfaction with court proceedings related to the detention facilities in Trnovo and expressed his support for our further actions to mark unmarked sites of suffering.
On Mount Igman, we marked the former Hotel Mrazište, another derelict building these days, located next to the forestry administration. During the war, it was the headquarters and command centre of the Zulfikar Special Unit of the Army of the Republic of BiH. The Zulfikar Unit used parts of the hotel to detain Serbs and Croats from the wider Sarajevo and Konjic area. The prisoners were transferred from other prison facilities, such as  Musala in Konjic, and were subjected to interrogations, forced labour and abuse.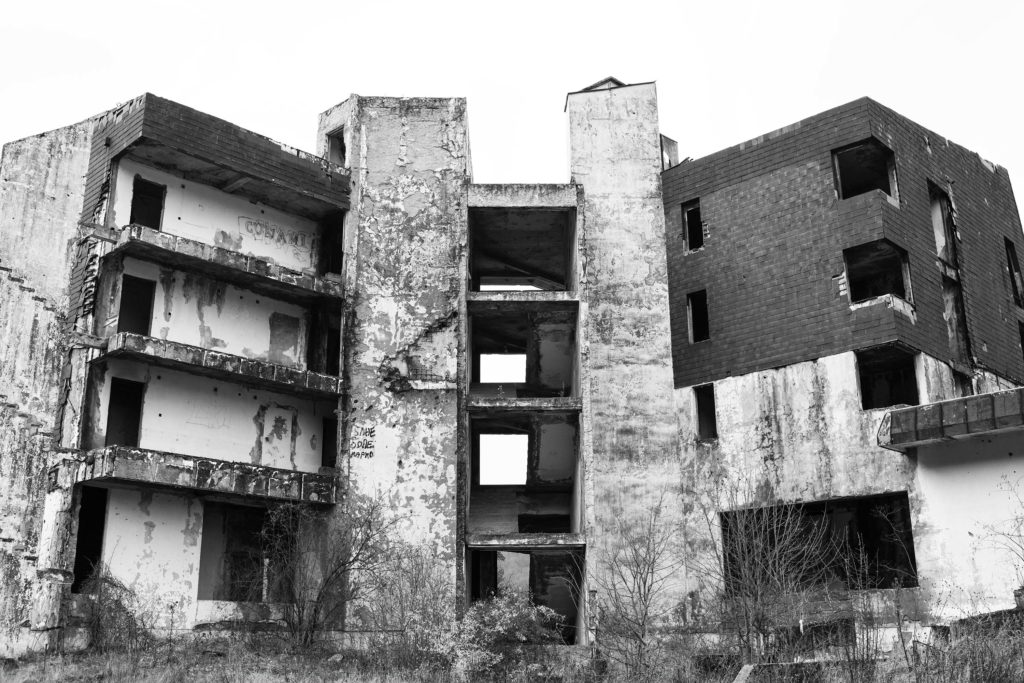 Returning to Bugojno
We continued our action in Bugojno, where we were returning after six years. In our first action, the Iskra Stadium in Bugojno was among the first sites of suffering we marked. We now returned to mark other unmarked sites of suffering. In the summer of 1993, Bugojno saw the clash between ARBiH and HVO, where ARBiH managed to overpower HVO and take control of Bugojno. The conflict involved many wrongdoings and numerous detention facilities were set up in Bugojno.
At the height of the conflict, from 17 to 28 July 1993, the already retreating HVO units set up a detention site in the basement of the Akvarijum Motel where they imprisoned Bosniak prisoners of war. 46 people were held at this facility for 11 days in inhumane conditions before being exchanged for wounded HVO soldiers. When we were marking the Akvarijum Motel as an unmarked site of suffering, we were joined by Emir Omerinović from the "Vrbanja 93" victims' association and Vahid Karagić from the Bugojno prison camp survivors' association who had been a prisoner there. Vahid told us about his imprisonment and why it was important for him to have sites such as this one permanently marked to remind people of the traumatic events that took place there, in the hope that in the future cooler heads would see these events and their memorials as warnings against the evils of war.
Numerous Detention Sites in Bugojno
When armed conflict broke out on 17 July 1993 in Bugojno between the ARBiH and HVO, members of the ARBiH 307th Mountain Brigade started detaining Croat members of HVO and civilians in various detention facilities. We marked five of them in this action.
The "Vojin Paleksić" Primary School, specifically its gym hall, was used as a detention site until mid-august 1993. Up to 250 people were held there in inhumane conditions and were subjected to abuse. One prisoner was killed. The prisoners were forcibly transferred to other facilities, primarily to the Iskra Stadium.
The basement of the "Slavonija DI" furniture salon was used as a detention facility up until 23 August for around 200 captured Croats who were subjected to inhumane conditions and abuse. The prisoners were forcibly transferred to the Iskra Stadium.
The basement of what was then BH Bank (now the BBI Bank) was used as a detention facility for Croats brought there for interrogation and processing. The command of the ARBiH 307th Brigade Military Police was located upstairs. The prisoners were subjected to inhumane conditions, interrogations and daily abuse. The detention facility in the basement of BH Bank remained operational all the way up to January 1994.
The local convent, or former Marxist Centre, was used as a detention facility for Bugojno's Croats and prisoners were kept there all the way up to January 1994. At least one prisoner was killed and very many were subjected to inhumane conditions, abuse and beatings.
The basement of the Bugojno Gymnasium was used up until October 1993 as a detention site for more than 100 Croats who were subjected to inhumane conditions, torture, abuse and forced blood draws. The military and the police were running this detention facility because the police station was located in upstairs rooms of the Gymnasium.
During the tumultuous summer of 1993, members of HVO, as well as other Croats from Bugojno were collectively detained at about a dozen sites of detention set up across the Bugojno Municipality. The Iskra Stadium, which we marked during our first action here, was the final detention site for Croats up until 19 March 1994 when the last of the Croat prisoners from the stadium, having been held there for eight months, were exchanged for Bosniak prisoners from Heliodrom in Mostar.
The sites of detention in Bugojno were included in several war crimes trials. The International Criminal Tribunal for the former Yugoslavia (ICTY) convicted the Commander of the 3rd Corps of ARBiH Enver Hadžihasanović, sentencing him to three and a half years in prison, and the Commander of the 7th Muslim Brigade of the 3rd Crops of ARBiH Amir Kubura, sentencing him to two years in prison. The Court of BiH sentenced Enes Handžić to eight years, Alija Osmić to three years, and Osman Šego to five years in prison. The Court of BiH also sentenced Nisvet Gasal and Musajb Kukavica to four years in prison, and Senad Dautović to seven years in prison.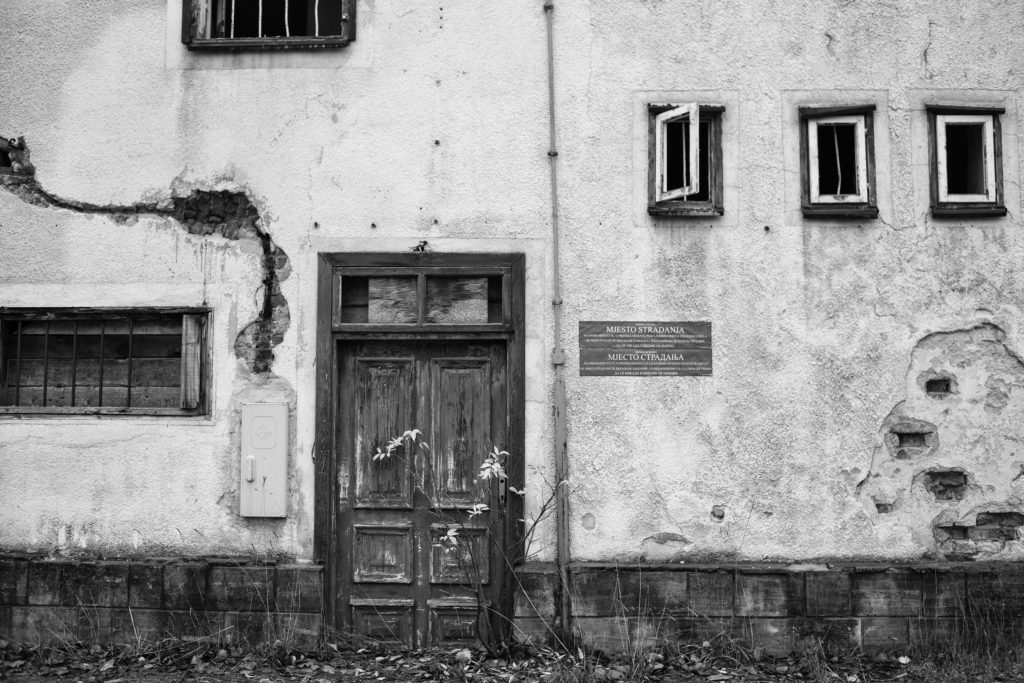 Towards a Healthy Culture of Memory
All the sites we mention here still do not have a memorial to inform future generations about what happened there. Unfortunately, official and dominant memorial practices, also in local communities, still do not leave room for constructively talking about these sites and for using them to warn future generations against repeating the same mistakes. Our society and its local communities have yet to choose a path towards a healthy culture of memory about difficult periods from our past. Unfortunately, denial and silence still prevail in local communities when it comes to the suffering of minority groups. The initiative to mark unmarked sites of suffering wants to change that by giving space and voice to such sites of suffering and their victims. Silence is not golden.
Video from action: