Activists from Bosnia and Herzegovina marked sites of suffering in the area of Bileća and Nevesinje. A total of eight locations related to the suffering of the non-Serb population during the 1992-1995 war were marked. They include sites of detention, murder and mass graves that have never been marked.
In the 16th action to mark unmarked sites of suffering in Bosnia and Herzegovina, activists marked a total of eight locations. In Bileća, they marked the buildings of the Moša Pijade JNA Barracks that is still used today by the Armed Forces of BiH, the former Student Dorm that houses entity and local government institutions today, the former JNA Hall in Nevesinje and the Alatnica facility in the same town. In Istočni Mostar and the village of Zijemlje, we marked locations related to the suffering of people from Nevesinje, the Dnopolje school building and the pits of Dubravica-Breza and Doline-Kušići. Also, in the area of Konjic and Boračko Lake, we marked the site of the former police resort and cafe "Strela" which is also related to the suffering of people from Nevesinje.
"In this action to mark unmarked sites of suffering in BiH, we marked sites in Herzegovina. We visited the local communities of Istočni Mostar, Bileća and Nevesinje and marked sites that have still not been memorialised in a way that would befit what happened there. One of the sites we marked was the former cafe bar "Strela" and former police resort that was used in 1992 as a site of detention for Bosniaks from the Nevesinje area," said Dalmir Mišković.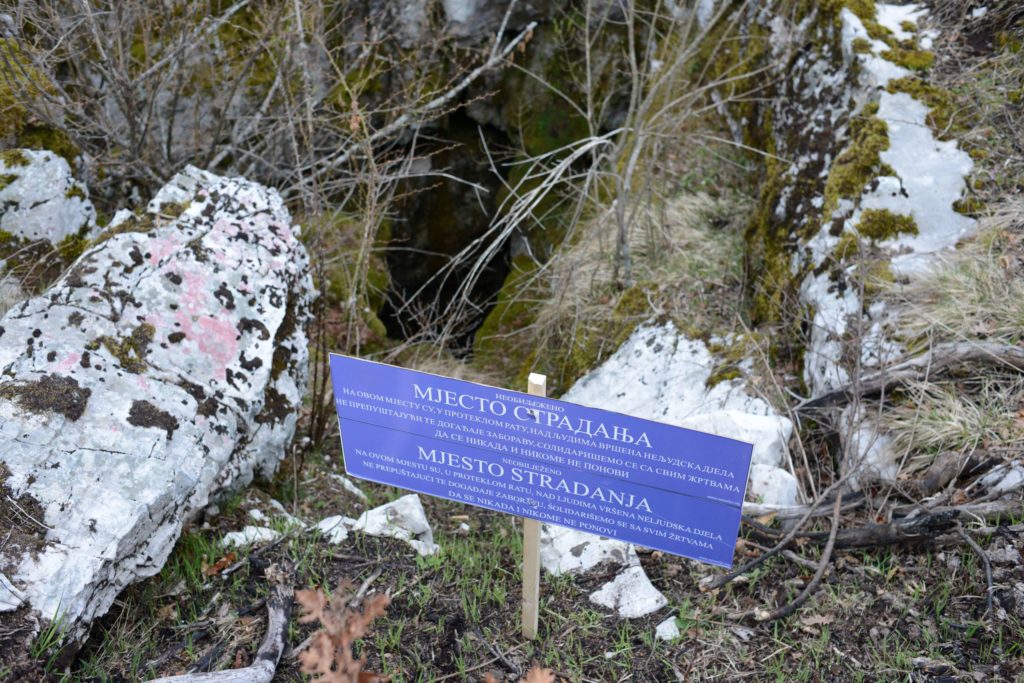 Senad Omerika, who works on researching and documenting the suffering of Bosniaks and Croats from Nevesinje, said that the atrocities against these two communities mostly took place between 14 and 30 June 1992.
"In that period, 305 Bosniaks and 12 Croats were killed. In terms of percentages, around 10 percent of the Bosniak population of Nevesinje was killed, which unfortunately puts Nevesinje statistically right behind Srebernica. Among those killed, there were 26 children, and one child did not even have a name because of being born while the mother was trying to escape the atrocities. As for the sites themselves, the mountains around Nevesinje are full of mass and individual graves. There are over 20 mass graves, but only three have memorial plaques. Here, you cannot miss places like the Dubravica-Breza pit where 26 men were executed and the Dolina-Kušići pit where 12 bodies of Bosniaks from Nevesinje were exhumed," Omerika explained, adding that mass graves were also found at Kiser by the Boračko Lake, the Lipovača pit near Nevesinje, Teleća lastva was identified as a secondary mass grave… Other sites of detention, apart from the site at Boračko Lake, include the school building in Dnopolje in Zijemlje, the "Alatnica" facility and the JNA Hall in Nevesinje proper.
The Court of BiH convicted Krsto Savić, the former chief of the Trebinje Public Security Centre, under the command responsibility doctrine, for crimes committed in the Nevesinje area, and sentenced him to 17 years in prison. Radivoje Soldo, as a member of VRS, entered into a plea agreement for the crime of unlawful detention and rape, inhumane treatment and abuse and was sentenced to five years in prison. Milenko Vuković was convicted by the District Court in Trebinje for the abuse of prisoners at the JNA Hall, and sentenced to one year and six months in prison. The crimes against Bosniaks from Nevesinje are also part of the ICTY judgement against Momčilo Krajišnik who was sentenced to 20 years in prison.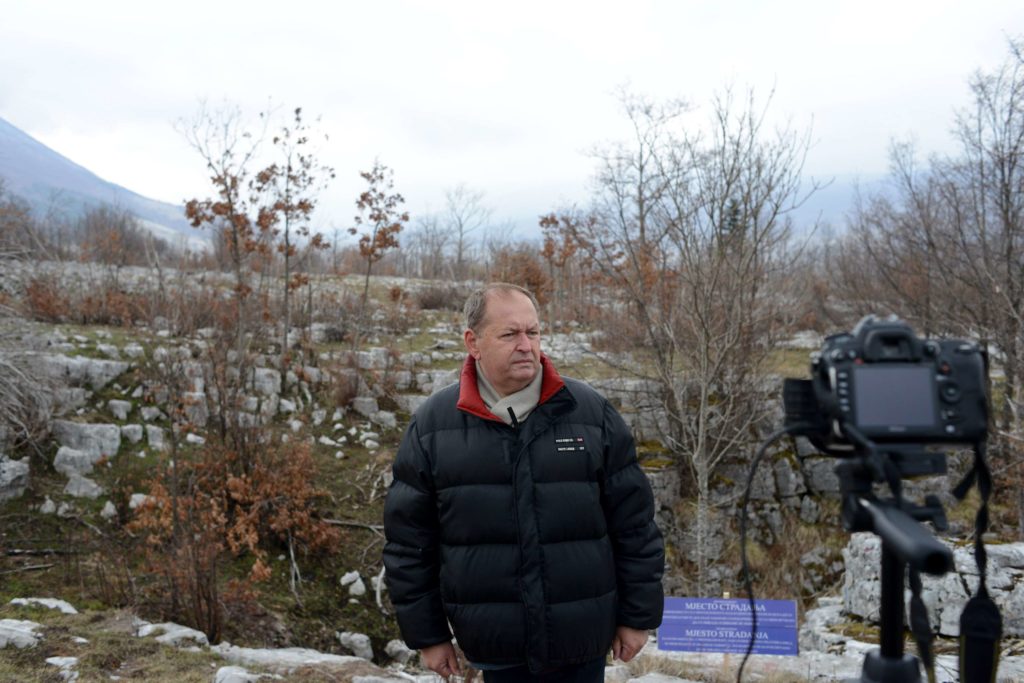 As for marking these sites of suffering, Senad Omerika said that there are a number of monuments in the Nevesinje area, but they are all located on the premises of places of worship.
"We have to be completely honest and say that in the village of Kljuna, there is a monument commemorating 508 Bosniaks from Nevesinje who were killed. It forms part of a religious building, but there was no obstruction from the Nevesinje authorities, and commemorations are attended by as many as 5000 people without any problems. However, any attempt to mark things publicly, with government guarantees and permits, I think is still hopeless, it's not the right time yet, I don't think there's a single person here who would sign off on you putting up a monument at some specific site anywhere on the territory of RS. But, I repeat, there are almost 20 memorials in the Nevesinje Municipality, but as part of religious buildings, in the villages, but not on the sites of the atrocities themselves, or where the crimes happened," Omerika added.
The former Moša Pijade JNA Barracks in Bileća was used in 1992 as the final destination of most Bosniak and Croat prisoners from the Herzegovina region and beyond. Prisoners were brought to the barracks in Bileća from elsewhere, but local Bosniaks and Croats from villages in eastern Herzegovina were also brought there, as were prisoners of war captured in combat. Several hundred prisoners passed through the facility. The prisoners were subjected to inhumane conditions, abuse, interrogations and beatings.
The former Student Dorm, which today houses the Forestry Administration, inspection offices, etc., was used from May to December 1992 as a site of detention for Croat and Bosniak civilians from Herzegovina. At least 80 people were detained there. The prisoners were subjected to inhumane conditions, abuse, forced displacement and beatings. On 5 October 1992, about one half of the prisoners were forcibly deported to Montenegro together with their families. At least one prisoner was killed or succumbed to injuries due to abuse at this site.
In its first-instance judgement, the Court of Bosnia and Herzegovina convicted Boris Bošnjak as a member of the 7th Battalion of the VRS Military Police and commander of the guard at the Barracks and sentenced him to ten years in prison, while Miodrag Grubačić was sentenced to five years and Ilija Đajić to six years in prison, for inhumane treatment of non-Serb civilians held prisoner at the former Moša Pijade Barracks in Bileća in 1992. The appeal procedure is currently under way. As for the crimes committed in the Student Dorm, the Court of BiH handed down a final judgement sentencing Goran Vujović to six, Miroslav Duka to twelve and Željko Ilić to five years in prison for crimes against humanity. The crimes committed in the Bileća area are also included in the judgements against Momčilo Krajišnik and Mićo Stanišić, as well as Krsto Savić, mentioned above.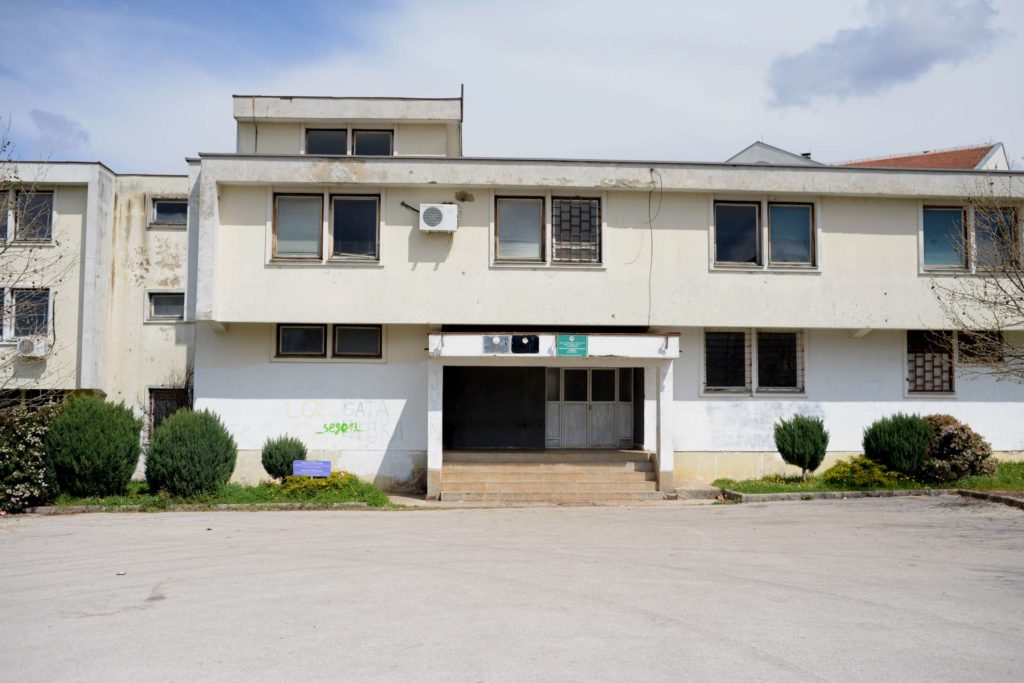 "No one can commit crimes in my name, in the name of my people, or in anyone's name. Every crime is simply a crime and every mother mourns her loved ones, crimes don't have a religion or nationality. That is why what you are doing is of such value, because until people are aware and until they can openly say: 'Yes, a crime was committed here by such and such," this society will never be able to move forward," Senad Omerika said.
With this action, we have brought the total number of marked sites of suffering to 119. A list of marked sites with information about crimes and prosecutions, as well as a map of the sites of suffering are available on our website onms.nenasilje.org.
"The importance of marking these sites is in our wanting to draw attention to the fact that we are all responsible for not forgetting these sites and all victims. By remembering the places and the people who were killed, we want to point to the importance of appropriate and dignified remembrance to make sure this never happens again," said Radomir Radević.
Video from action: